The reason I started thinking about this is because, I'm not sure the Head of Social role is well defined in organisations in 2019. If you look at various job descriptions of Head's of Social, they're quite different and hold a number of different responsibilities. Around 80% of the ones I look at, I don't think are defined appropriately. I'll go into more detail on why this is, later in the article.
The Evolution of Social Media
As we all know, social media has evolved quickly and dramatically in a very short amount of time. This has meant that the skills needed in the industry, have also evolved quickly. Initially, focus was put on having a person in place who knew how to put together social media posts that would receive a strong reaction from an audience. Over time, this has obviously had to evolve as social media has become a business critical channel, not only for Marketing, but for other areas of the business (e.g. Customer Service, Sales, HR, Research etc).
Social media is now being used across multiple departments by individuals with different skillsets. A customer service agent can now respond on social media, as well as email and live chat. A sales representative can use social media as a way to speak to clients and prospects. Marketers are using various strategies to reach new and existing customers. And this is all great. But where does this leave a Head of Social?
What a Head of Social Shouldn't Be
You might find it strange I start here, but, based on my earlier comments, I don't think job description's for Head's of Social are well defined in a number of cases. What do I mean by this?
A lot of the information in the job description refers to the "doing" part of social media. By "doing", I mean, posting to social media channels, as well as creating the strategy for each, building reporting for each channel, building a content calendar and executing against it, and so forth. This is not the role of a Head of Social. Head's of Social have potentially evolved into a hybrid of a social media strategist, a social media manager, a community manager, a content marketing coordinator and an analyst. Note the number of job titles I just listed. Your organisation should no longer think of a social media team as a one man army, multiple roles are needed to fully invest in social media in 2019. More on this in a later article in this series. Head's of Social with this list of responsibilities will drown in the amount needed doing, and will struggle to be strategic in their approach to the social media strategy of the business. And as proven below, human resourcing for these types of roles is the biggest challenges being faced in businesses: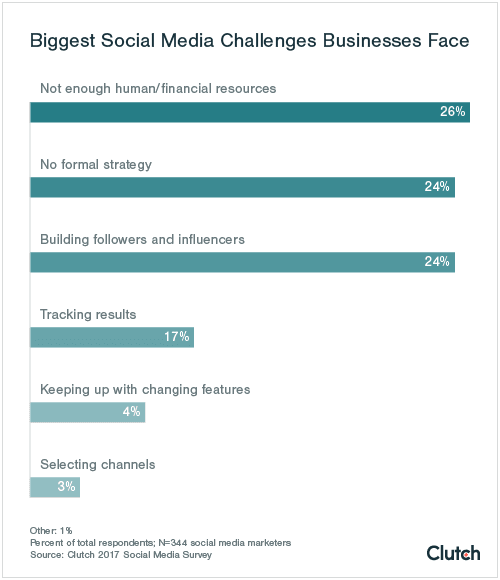 Not having enough resources, was the primary challenge from social media owners in this survey from Clutch in 2017.
What a Head of Social Should Be
Now we know what a Head of Social shouldn't be doing, lets focus on what they should be doing with their day to day.
I had a great question in a workshop I was facilitating recently. The question evolved around how to communicate social media strategy to multiple departments in a sizeable organisation, and the challenges around getting their support and coordination around social media efforts. Guess what? That's one of the Head of Social's responsibilities. As organisations have grown to adopt social media across multiple departments, the coordination of social efforts needs to be balanced to allow for consistency. In the middle of this sits the Head of Social, ensuring the "social media brand" of the organisations is being communicated consistent and effectively across the whole organisation. This is only one of their responsibilities but starts to give you an idea of how strategic this role can be.
I spoke to Dan Price of Useful Social, a former Head of Social both agency side and brand side, and he mentioned "The challenge I found as a head of social was being able to align strategy across departments. For social to be effective it can't be tacked on at the end – it needs to be considered at the beginning of the process. I had to help people understand that social is not just about managing channels – it's an audience behaviour that requires specialist thinking. You need c-suite level buy in of social to get the organisation thinking that way".
It's a great point by Dan, and shows that a Head of Social needs to be comfortable communicating up the chain in an organisation, as well as down.
Beyond coordinating efforts of social media, the Head of Social should be responsible for a number of other initiatives including:
Audience strategy – As Dan mentioned above, social is about creating an experience for your audiences and customers. The Head of Social needs to help the organisation define which channels are being used for which purpose and which audience profiles.
Technology and platform choices – What social media channels should be used across the organisation, how should they be used and what technology is needed to support this strategy.
Measurement – How will social media be measured, specifically around ROI from social media to report back into the business.
Education – Working with in house education and training teams, or external training organisations, to ensure everyone in the organisation understands their role in social media. This can be supported by social media policies and playbooks
(guess who is responsible for building those out?)
People – Working with the organisation to make sure social media is a medium fully taken advantage of. This would encompass everything from helping with strategies across various departments, and ensuring the social media teams themselves are resourced appropriately. Too many times, I work with social media teams who are far too small to keep up with the responsibility they have.
Collaboration with departments – The Head of Social should be working closely with Marketing, Digital, Customer Service, Sales, HR, Research and more to promote the value of social media, and to create the transparency needed between departments. A future article in this series will go into more detail, but a good example of this is where a Head of Social has little to no visibility into the paid advertising spend, which is held in Marketing, or with an external agency. When you write it down, it sounds crazy, but we see it all the time.
In Summary
A Head of Social is a person who can:
Define social media strategies with business goals associated with them
Clearly communicate the social media strategy into the organisation and use social media policies and playbooks to assist in communicating that strategy and vision to all employees
Be confident in communicating up in the organisation to help senior executives understand the value of social media
Work to collaborate with multiple departments in the organisation
Be the voice of reason for social media
We know the Head of Social has a vital role to play in 2019 and beyond as social media continues to be business critical and we want to help!
This article originally appeared on We Strategise